Club News
Congratulations!
Great Yarmouth Festival of Bowls
Well done to Garry Oakley & Roger Guy winners of the Senior Pairs beating Geoff Batley & Peter Roseblade in the final.
Also to Geoff Batley, Roger Guy, Kevin Guy & Peter Roseblade for winning the fours.
Welcome Back Drive
Enjoyable afternoon was had by all finishing with an afternoon tea. Congratulations goes to Wendy Bryant and Roy Taylor on their win.
Handbook and Membership Fees

Hi Everyone,
This year's handbooks are available from Tuesday 27th August on payment of your membership fee. You can also get them on Wednesday evening between 6:30- 8pm and Sundays 12 noon to 2pm and 6-8pm at the bar.

When you come to the club for your handbook, could you also bring your email address as I am hoping to start a Newsletter via email with a view to keeping everyone informed of what's going on in YOUR club.

Finally, if you play a musical instrument or sing I would like to hear from you. The Club has a small band at the moment, but I would love to think we could get a Music Club within our Club going. I will first get people's names and if we get enough, we will have a meeting in the bar. You don't have to be a maestro to join in, it's for fun, just like bowls.

Thanks

Martin Edwards




Club Secretary




Email: quail1352@gmail.com
01953 459646
073 927 53161
Congratulations!

12 August 2019
Graves Cup & Dave Allen Memorial Trophy
Again this year we were invited to play in Mundford Bowling Club's invitational tournament the Graves Cup. The team came up trumps for the 3rd consecutive year beating Shropham B.C. in the final.
The team then went on to play Swaffham Town B.C. the winners of the Rosie Smith League for the Dave Allen Memorial Trophy. In a close fought game the Dell came out to be the eventual winners 47 to 44 shots.
Team Members: -
Mike & Pam Baker, Geoff Batley, Vic Chamberlain, Bryan & Marlene Elvin, Andrew Gaze, Paul Groom, Peter Harlow, Richard Harvey, Barbara Parker, Dianne & Ray Runciman and Terry Smith.
County Competition
Well done to Peter Richmond, Barry Flatt, Garry Oakley and Gary Goodrum for winning the Norfolk County Senior Fours.
National Competition
Good luck to Barry Flatt and Gary Goodrum for making it through in the Senior Pairs to the National finals held at Leamington Spa. They will play their first game on Friday 16th August at 2pm against Sussex.
Congratulations!

27 April 2019
The Wymondham Dell Ladies Fours team won the final of the County Fours competition against Gallow following a very close match.
The Wymondham Dell Ladies Triples team also won the final of the County Triples competition against County Arts, beating them by one point.
Well done to all the ladies who took part!
Summer Season 2019
The outdoor green opened on Friday 26 April 2019.
Article Published in Wymondham Magazine, Issue 17

September 2018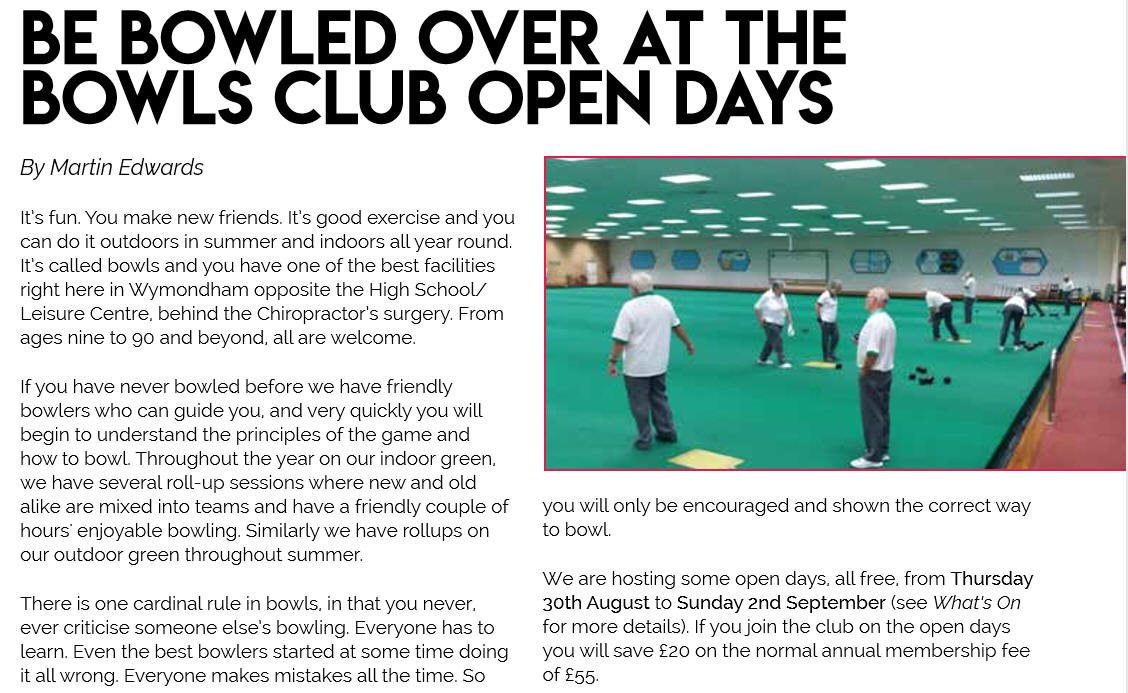 Club Handbooks

17 August 2018
Handbooks for the indoor season are available from Monday 20 August on payment of the annual subscription.
National Ladies Triples

14 August 2018
Congratulations to Suzie Groombridge, Jean Webb and Pam Baker for reaching the quarter finals representing Norfolk at the National Ladies Triples at Leamington today. Very well done!
David Allen Memorial Trophy

11 August 2018
Congratulations to the Wymondham Dell team who won the David Allen Memorial Trophy against Swaffam on Saturday at Mundford Bowls Club. This was an invitation match to the winning clubs of the Rosie Smith League (Swaffam) and the Graves Cup Trophy (Wymondham Dell).
Congratulations!

8 August 2018
Pam Baker, Jean Webb and Suzie Groombridge are off to represent Norfolk at the national finals at Leamington Spa. Their first game is on Monday 13 August at 9:30 on the Leamington greens.
Good luck to you all and very well done.
Congratulations!

31 July 2018
John Ottaway, David Naunton and John George are off to represent Norfolk in the National finals at Leamington later in August.
John, David and John won the Norfolk County Triples final last Saturday beating Wayne Wilgress' rink from the Norfolk Bowling Club.
John Ottaway was runner up in the County Singles losing 20-21 to George Tubby from Freethorpe, with both representing Norfolk in the National finals.
Good Luck to you all and very well done.
This is the 13th year of the Top Team Competition. The Top team playoffs were held on 14 April 2018 to find the winners of the Mixed Pairs, Men's Pairs and Mixed Fours. After the games the Presentations were made by Teresa Ball, Ladies President and Alan Coombe, Club President to:-
The overall winners of the Top Team 2018 were presented with the silver salver by David Carter to the Swifts, David Chadwick's team, received by Val Vardy. David Carter gave a big thank you to John Austin for his organisation of the top team competition.
The Wymondham Dell Men's 'A' team won the final Indoor County League game against Roundwood, 6:1 to secure the Division 2 Championship and promotion to Division 1, Premier league.

Well done
Peter Bailey